Pinot Noir-2014 Santa Lucia Highlands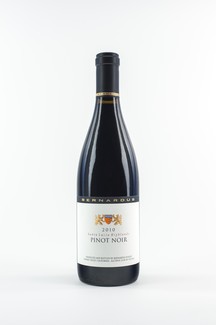 Our Santa Lucia Highlands Pinot Noir is a blend of Pinots from several specially selected vineyards. It amply demonstrates all the characteristics that have made this wine region world famous for its Pinot Noirs.
The Santa Lucia Highlands appellation has long been a focus for us at Bernardus as we recognized early on the phenomenal potential of this great region. We have been producing small vineyard-designate bottlings from several of our favorite vineyards for many years. Recently, we have increased our vineyard selections and felt the time was right to bottle our Santa Lucia Highlands Pinot Noir.
At Bernardus, all our Pinot Noir grapes are hand-picked, sorted and fermented in small, individual batches. They are then aged in the finest oak barrels until final blending, just before bottling.
Varietal: 100% Pinot Noir
Cooperage:
Aged for 10 months;
40% new; Sirugue, Billon, Kadar and Trust.
Bottled:
August, 2015
Production:
6,447 cs. (750 mls.)
449 cs. (375 mls.)
Vineyards:
Tondré
Paraiso
Highlands
K W